Create a Gang here!!!
Posted: Thu Sep 07, 2006 3:32 am
Name: No Namerz
Turf: 7th ave. Manhattan
Origination date:New Years Eve 1978 12:00 am
weapon(s) of choice:brass knuckles,wooden bats,moltovs,hockey sticks
Initiation procedure:a game of catch and kill... the new blood is set set free streets of new york where he must survive 6 hours on his own dodging any foes in his path and bring back the colors of any selected gang ( such as a shoe shirt hat ect.) and present to the leader after 6 hours of horror)
Allied by: Warriors
Full Stregnth:15 (subjected to change)
Racial Background make-up: any race acceptable
Stong points: handeling cops,strategical rumblers
Weak Points: bottled up hatred that enterfeers with loitering
rival(s):no specific gang, cops
The Patch!
The colors!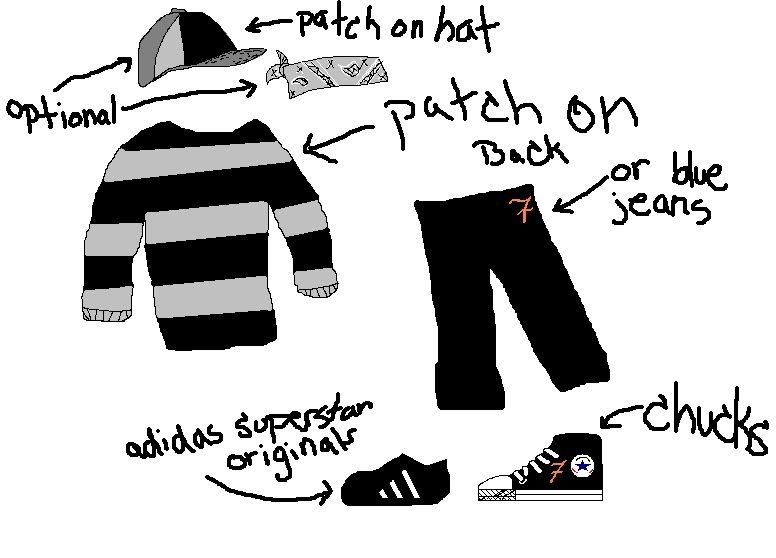 The Graffiti
Bio:
   The No Namers was started by a small clique (7 members) who had eachothers back! ages 14-17.When gang violence blanketed the streets of NYC this small clique needed security! therefore starting the color gray as they're colors! this gang comes a long way as they fight for theyre right and gradually make a name for themselves in the crime infested streets of NYC!
_ _ _ _ _ _ _ _ _ _ _ _ _ _ _ _ _ _ _ _ _ _ _ _
include same info in yours.
have fun! feel free to make changes to yer bands profile even after done!  you may start rivalries or allies with other forum members' gang! you may make more than one gang... thats alright! remember keep the violence level to a minimum... but have fun!
KEEP IN MIND THAT MY PROFILE WILL CONSTANTLEY BE UNDER CONSTRUCTION SO BE SURE TO CHECK IN!